Zach Prather is currently in LA. Requests for concerts: info@zach-prather.com
Born in Chicago in 1952, Zach Prather grew up listening to many of the great Blues players. He began playing at the age of 13 and by the time he was 15, he had made his first record with Curtis Mayfields Lable Curtom Records. During this time he had commence playing at many of the well known clubs and venues in the Chicago area.
At 17 Prather completed two years military service, after which he formed another Band and returned to the club scene. However, it was not the local Blues players that influenced Prather then, rather the British Invasion groups such as the Rolling Stones, the Kinks, Small faces and the Who. In 1974, Prather moved to Los Angeles and began playing with another Chicago guitar player, Cash McCall. Together they performed with some of the biggest names in the Blues, including Screamin J Hawkins, Etta James and of course Willy Dixon. "Cash and I had allready become very good friends when he introduced me to Willy and in a short time we also were very close, so he, Willy, decided we should record together. Willy really liked the things I was doing, he knew people where calling it Rock 'n Roll but no one knew better then him where Rock 'n Roll came from. During this Recording Project Willie became ill. Prather was with him the day before he died, and he will always be grateful fore being able to meet this man and fore all he taught him about life which is the blues.
Latter while touring Europe with Screamin J., Zach meet Luther Allison, after one Jam Session and some quick Arrangements, Zach moved to Paris where he performed with Luther fore 3 and a half years. 1994, Zach made his first cd called Never My Love, with Melodie/Encore records. He has not stopped since …….
Endorsements
Zach Prather ist endorsed by Dean Markley Strings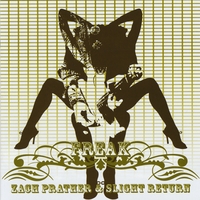 Listen to the Samples of FREAK